Page Ahead is proud to present the Sarajane Beal Award for Volunteer Excellence to Barbara Towle.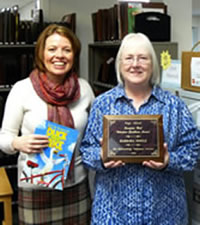 Page Ahead's Story Time program relies on Barbara. Where ever there's a dancing bug with googly eyes, or a clothespin alligator, it's because of Barbara! Barbara has been a Page Ahead volunteer since 2008, even recruiting one of her in-laws to join as a volunteer as well! Barbara not only manages all the materials for Page Ahead's growing Story Time program, she has originated and redesigned many of the crafts, making them age appropriate for preschool age children through kindergarten students.
We are grateful for Barbara's faithful volunteer service. It is no exaggeration to say that Story Times could not happen without Barbara! Barbara is an author in her own right; her first book is a story for children of the unlikely but true friendship between a hippo and a tortoise: How Timbo and Trevor Got Together.